I love to write and I love to help others. Listed below are E books I have written for some of the common problems when it comes to home keeping. If you are a Kindle Unlimited  Subscriber , you can read all of my books for free! The following are the books with the newest beginning first. All available on Amazon.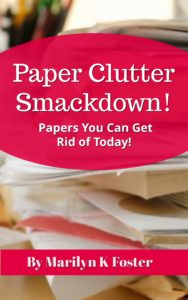 It seems most are drowning in paper clutter these days with the number one question, "What do I keep?" The second question most ask, "Why am I getting all of this junk mail?" This book answers that and more. It takes you through the steps as to what is important, how to get off mailing lists from junk mail, how long to keep papers, and a filing system that keeps your piles from growing again. May this be your 'Go to' book for references to help you get out from under all this paper.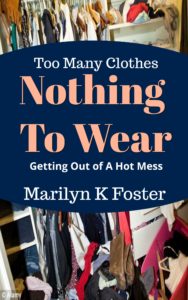 Have you ever stood in front of your closet looking at all your clothes and still can't find anything to wear? You are not alone. This is the first book to help you come full circle and solve your clothing clutter problem once and for all. The book gives you the whys and the reasons you are in this position. There is a chapter on the evolution of fashion to help you understand even more. The next step is decluttering your clothes where she presents multiple methods making one suitable for you. Once your clothes are decluttered, Marilyn helps you fill in the gaps with essential pieces. Finally she will give you an introduction to a capsule wardrobe to see if it is right for you.
Finally a simple step by step way to tidy your home each week. Many don't have time to deep clean but they want their home to be company ready and to make their coming week go smoother. It is a way to reset from the previous week where there may be things that didn't get put away or find water spots on mirrors, smudges on doors, a little dusting, vacuuming, sweeping and mopping the without moving furniture. These steps help tidy up the home and help you to feel more in control. Putting clean sheets on the bed for the new week is the best way to start.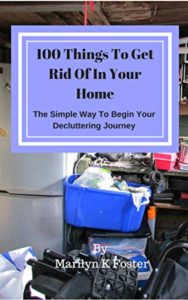 Are you overwhelmed with the clutter you have accumulated in your home and don't know where to start? 100 Things To Get Rid Of In Your Home makes it easy for you to begin your decluttering journey. Marilyn takes you through each part of your home and list items that may not be obvious to you. Marilyn believes if you begin with the clutter that has the least emotional attachment to you, the easier it will get when you do have to make difficult decisions as to what stays in your home and what goes. As gift to you Marilyn has included a free download checklist to print and put in your home management binder. Check off each one when you are done!
Check Back Often! More e books are on the way!