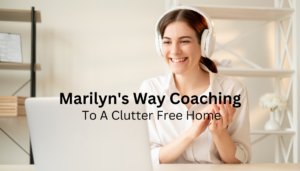 There Was A Time…
when my home was filled with so much clutter I literally had pathways.  In fact if I wanted something I would have to move one thing first in order to get to what I needed.
I wondered how I got that way…
The Answer?
Gradually
Our human tendency is to fill up the space we have. It is a form of 'Nesting'. The problem is many of us don't know when to stop. We keep filling up space.
We Are A 24 Hour Society
I believe this has become a big factor in clutter. If we live in a town large enough, we are never very far from a Walmart open 24 hours.
If We Can't Find It At Home, We Go To The Store To Buy Another
That is how we find ourselves with multiple items of the same thing. The longer they spend time in our home, the more attached we become.  We now have an emotional investment in it and unconsciously feel the object is an extension of our self.
We Don't Want To Let Go Of Things
We continue to fill up space. We fill our cabinets and drawers. When they are full we fill area surfaces like counter tops and tables. Then come the totes until we can afford another cabinet. These totes get stacked and lined up against walls. Soon our space become pathways.
We Love Getting Free Things
Have you ever gone to a vendor fair? Everyone seems to have something to give away free. But is it really free? The sole purpose of the the giveaways is for an opportunity to do business with them
The Explosion Of The Dollar Stores
Many are now multiples of One dollar, Five dollars, Ten Dollars, and Twenty Dollars. We love instant gratification. These items are usually affordable to us. But are they?
Items Handed Down To You From Family Members
Sure, some we may want. Many times we have to take all the incidentals that come with it. This begins the minute we leave the nest of our parents.
When Does All Of This Gathering Of Things Stop?
It Is As Individual As The Person Themselves
Usually There Is A Crisis
Family from out of town coming to visit, leaky roof, flooded bathroom, school age kids that are now into sleep overs, graduation parties, weddings, funerals. It is usually whenever we will be having others over to our home.
Why Wait For A Crisis?
You don't! I am here to help. I have been through all of this!
I Won't Lie.
Getting you home back in balance is Hard Work. Your life continues.
Help With Your Daily Life While You Declutter
I offer services to help you get your day to day established. This is what I learned the most from my experience.  We cannot begin to declutter and not do our daily routine of living. What happens?
Piles Of Messes Everywhere
This is the very reason many are afraid to start. It gets too overwhelming and we stop. Now we have a bigger mess than before.
What If You Were Shown A Way to…
Declutter

Do Your Day to Day Activities

Have Time to Spend On Your Favorite Hobby
'What If It Was 'Affordable'?
Let Me Show You How
Please fill out the Application Form below
I offer a free 15 minute Zoom meeting to you to let you know what is involved and if we are a match to work together.
HTML Forms powered by
Wufoo
.
I would love to get to know you. I KNOW how hard it is to begin your decluttering journey. Let me help you make it easier. I worked out the kinks for you.