Do you ever find yourself standing in front of your closet every morning, wondering what to wear? Do you feel like you waste precious time deciding on an outfit instead of focusing on other important tasks? If so, it may be time to consider implementing a daily uniform into your routine.
The Solution?
Creating a 'daily uniform' to simplify your life can be exciting! With the right garments you can get there. No more 'decision fatigue' when it comes to what to wear, laundry is easier and it cuts back on spending money on 'fast fashion' garments that last maybe a year.
A 'personal uniform'! I am not saying wearing the exact same top and bottoms daily. Instead, a 'personal uniform' is a carefully selected, pre-determined set of clothing items/outfit formula that you wear consistently that makes you feel comfortable, confident, and authentically you.
Don't Know Where To Start?
How about taking the time to look at what you have been wearing. You may have a personal uniform and not even realize it. Make a note of the things you are wearing daily. Your laundry is a great resource to look. To help get you started here is an example of 10 essential pieces for your wardrobe.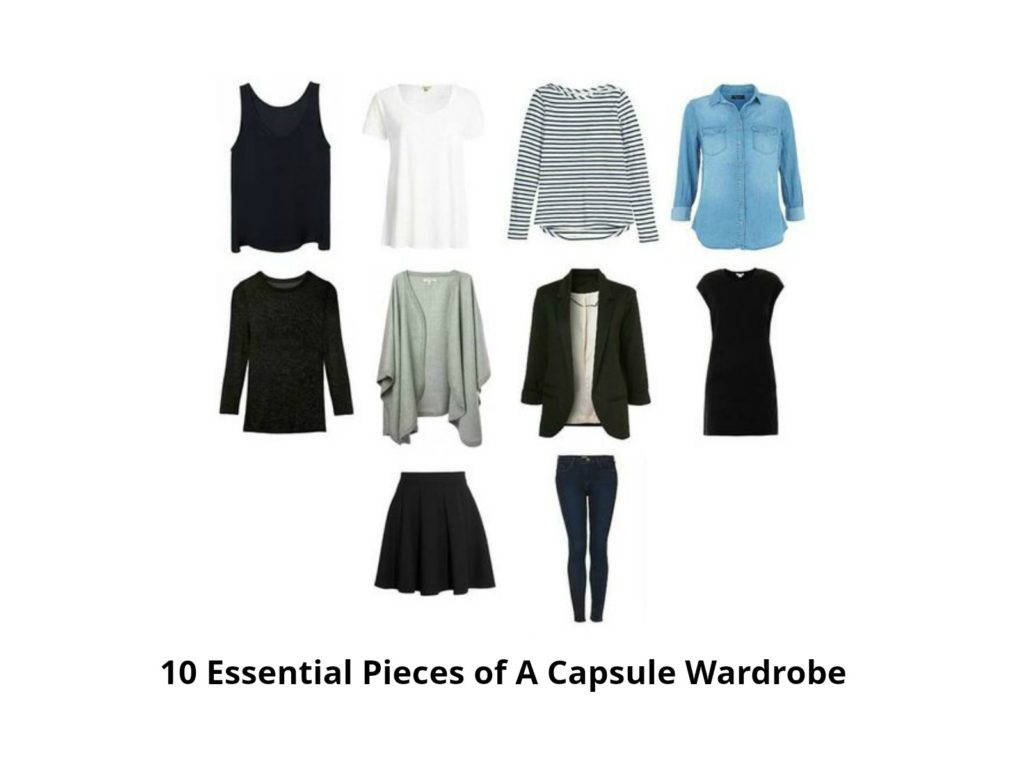 *The following are linkable to Amazon in which I am an affiliate. I will obtain a small commission if you purchase at no extra cost to you. It helps me out so I can continue writing giving you tips that can help you in your everyday life made SIMPLE.
Tank Top or Cami.  These are used as a layering essential. You could wear it alone for a date night. If you want a nice one silk is versatile and will work all year.
Structured Tee.   It should be structured enough to dress up or down. One neutral tee is good. Three are better. It is about deciding whether to spend or save.
Blouse.  Chambray can be worn open like a cardigan. It is a travel essential. Your classic white whether it is buttoned down or not never goes out of style. Silk blouses feel luxurious and have some upkeep.
Sweater.  This is a layering essential. It can be wool or cashmere for winter and cotton, linen or knit blends for summer.
Cardigan. For layering and travel essential and because AIR CONDITIONING is cold.
Skirt.    Pencil or A-line are the most versatile. Black jersey or modal looks structured and feels comfy.
Dress Pant.  At the very least one pair, for special occasions. Dark or charcoal. I have found a very tailored pair at Target and a reasonable price.
Favorite Jeans.  They are needed for the weekends. You can spend or save. Budget denim is thinner and doesn't keep its shape.
Versatile Dress.  It can be black, navy or charcoal. You can dress it up or down. Black jersey or modal looks structured, feels comfy.
Classic Jacket.  It can be a trench, a blazer or a leather jacket. Choose your style and is best to invest.
Benefits of a personal uniform for life
Here are some benefits of having a personal uniform for life
Saves time in the morning when getting ready
Eliminates decision fatigue by reducing the number of clothing choices
Promotes a consistent personal style
Reduces stress and anxiety related to wardrobe choices
Saves money by being more intentional when you shop & making less impulse purchases
Simplifies packing for travel
Helps to prioritize timeless style, comfort and function over fleeting trends
Encourages creativity and self-expression with accessories & statement details
Increases confidence and self-esteem
Helps to create a more sustainable and ethical wardrobe by investing in pieces that you know will be re-worn time and time again
Offers flexibility – you can step outside of your personal uniform any time you want, but it will always be there when you need to simplify
Makes getting ready easier for people that struggle with executive functioning and analysis paralysis – I have ADHD so a personal uniform helps simplify my morning routine
Some of the biggest fans of personal uniforms happen to be the rich, powerful and famous:
President Barack Obama told Vanity Fair, "You'll see I wear only grey or blue suits. I'm trying to pare down decisions. I don't want to make decisions about what I'm eating or wearing. Because I have too many other decisions to make."
Steve Jobs, famously wore a black turtleneck, blue jeans, and New Balance sneakers (infamously copied by Elizabeth Holmes prior to her fraud charges)
Anna Wintour, who is often seen in her signature bob haircut, sunglasses, and tailored dresses – often in bold, vibrant prints – proving that a uniform for life doesn't have to be boring
Mark Zuckerberg, often wears a gray t-shirt, blue jeans, and sneakers
Karl Lagerfeld, was known for his signature black suit, white shirt, and sunglasses
Hilary Clinton is all about that pant suit life
Albert Einstein was known for wearing a gray suit, white shirt, and no socks
Johnny Cash lived up to his nickname and wore all black
Richard Branson can usually be found in jeans and button down
Diane Keaton is known for her iconic look of wearing hats and tailored clothing – often oversized
Catherine, Princess of Wales is often seen in tailored dresses and matching coats nowadays
Warning signs that it might be time for a personal uniform for life
Are you thinking that all sounds great, but wondering if a personal uniform is right for you? Great question.
If you can relate to 4+ of the following warning signs, I think creating a personal uniform will be a huge benefit for you:
You spend too much time deciding what to wear every day
You get frustrated getting ready in the morning
Your wardrobe is cluttered and disorganized
You feel overwhelmed by fashion trends and choices
You often feel like you have nothing to wear
You struggle to create a cohesive personal style
You are constantly buying new clothes that don't fit well with the rest of your wardrobe
You feel self-conscious or anxious about your outfit choices
You have a limited budget for clothing and want to save money
You want to simplify your life and reduce decision fatigue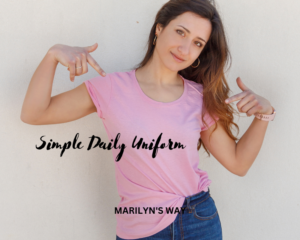 Decluttering and maintaining your home has its challenges. Make it easy on yourself when it comes to creating a simple daily uniform. There are plenty of decision making taking place in other areas of your life. Save your energy for them instead of wasting it on clothing decisions.
Do you have a personal daily uniform? Let me know in the comments.