Nothing is worse than getting sick when making other plans. What is even worse are all the precautions you took and still got sick.
February Event Make Your Bedroom Special had begun. This time round I was going to paint the ceiling and walls to freshen up the room.  Hindsight has told me I was already getting ill when I started with the ceiling.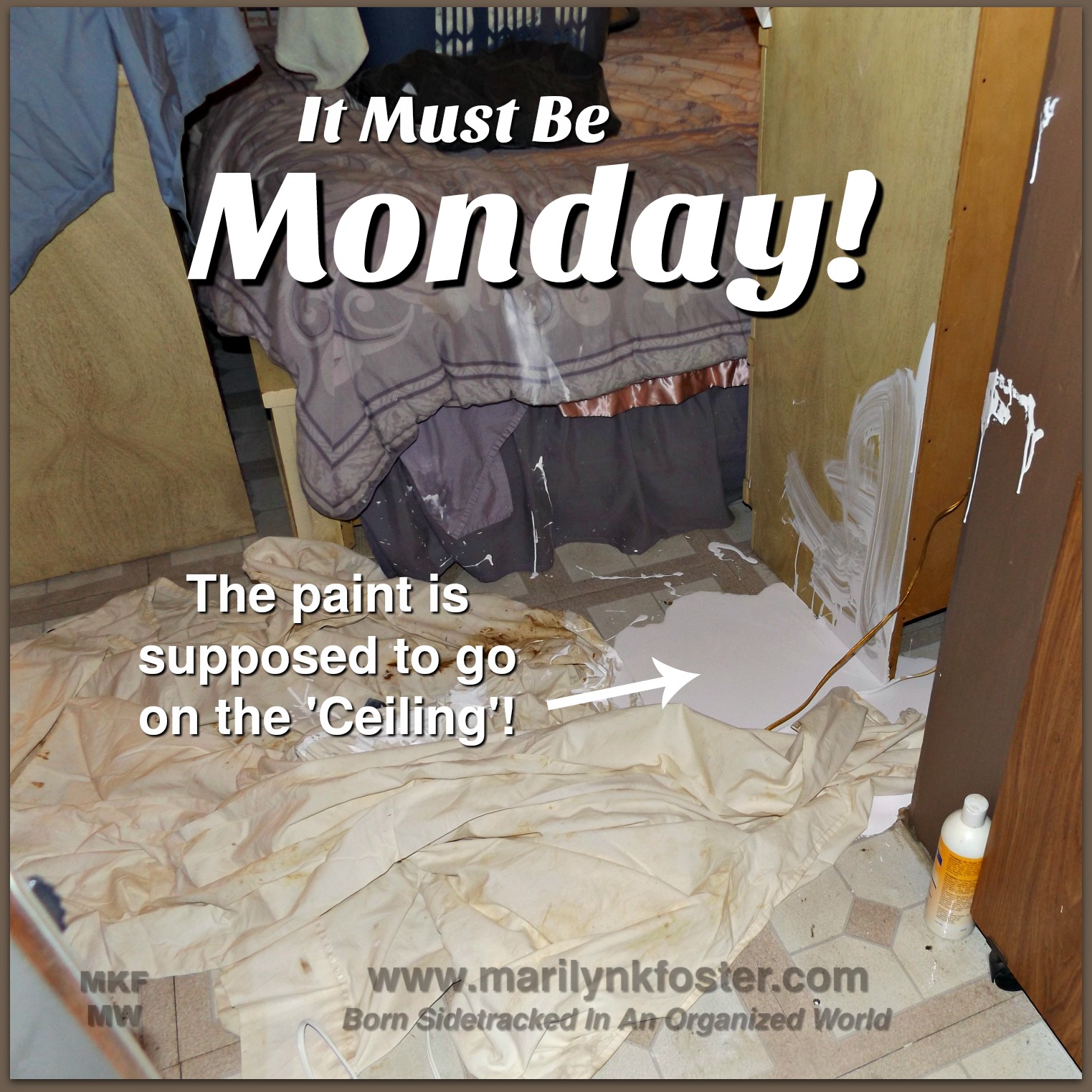 It took me almost two hours to get all of the paint cleaned up. Was it worth it when already feeling a bit under the weather? Certainly not! That said when living with chronic illness like Fibromyalgia it makes it difficult to decide if it is fibromyalgia symptoms or something else. Now that the paint was cleaned up, it was time for me to finish up the 9 Habits that keep me from getting sidetracked.tk
7.  Shine Sink
8.  Lay Out Clothes
9.  Launch Pad Ready
I woke up the next morning and it was official. I had the cold and flu. My body had fever and chills. I couldn't go long without sneezing. On top of that, I looked around and just having the painting supplies out made my home look like it was upside down. This is when I realized no matter how hard I tried…
I Cannot Have A Company Ready Home 100% Of The Time.
It simply isn't realistic. So what did I do? I did the first 3 of 9 Habits.
1.  Get Dressed To Shoes
2.  Swish And Swipe
3.  What's For Dinner?
History has taught me it is just as easy to get myself dressed to shoes while sick than to stay in my pajamas all day. I would simply wear comfortable clothes and this would lead me to…
When I was feeling a little better, I would spend 5 minutes tidying up. This would keep me from going into complete chaos making it even more difficult to get back on schedule when I did feel better.
Made an appointment to see my doctor. I knew from previous bouts of cold and flu I wasn't going to be able to get well on my own. I had two days to wait. I wasn't real sick yet. I decided to be proactive instead.
Phoned a friend. My stash of cold supplies dwindled in a hurry. Until I could get to the doctor I needed to continue taking them. She stopped after work, picked up the supplies and dropped them off for me.
I put my crock pot to work. Protein is what I needed to help me get over this cold and flu.  I put a beef roast in with sliced sweet onions and cloves of garlic before I sat down to rest. Tonight I would have roast beef, roasted garlic mashed potatoes and canned green beans from my garden.
What Habits Will I Skip While I Am Sick?
4.  Load Of Laundry
5.  Declutter 15 Minutes
My dinner was already cooking away in the crock pot. All I had to do is heat up the canned green beans from my garden and make Schwan's frozen garlic mashed potatoes. This allowed me to…
6.  Make Dinner Early
7.  Shine Sink
8.  Lay Out Clothes
9.  Launch Pad Ready
Saving my energy to do the above gave me permission to binge on a Netflix series promising myself to go to bed at a decent hour. My day was set up and all I have to do is rest and get well again.
Want To Know More About The 9 Habits?